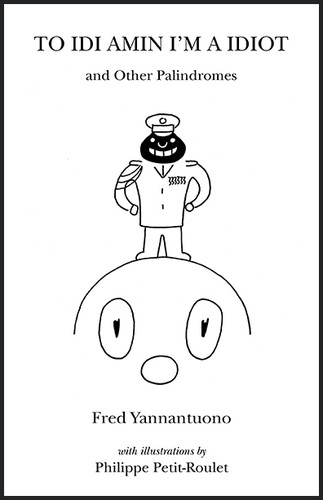 Mark Belair, Watching Ourselves, Unsolicited Press, Middleton, DE, 2017, 85 pages: ISBN: 9780998087276
Gary Fincke, Bringing Back the Bones: New and Selected Poems, Stephen F. Austin University Press, Nacogdoches, TX, 2016, 268 pages: ISBN: 978-1-62288-111-6
Larry Rogers, Live Free or Croak, Golden Antelope Press, Kirksville, MO, 2017, 53 pages, ISBN: 978-1-936135-27-1
Fred Yannabtuono, To Idi Amin I'm a Idiot, New York Quarterly Books, New York, NY, 2016, 91 pages, ISBN: 978-1-935520-90-0
Lee Slonimsky, Consulting With The Swifts, New and Selected Poems, 1982-2016, Spuyten Duyvil, New York, NY, 2016, 187 pages, ISBN: 978-1-944682-28-6
Anyone who reads our journal knows that for a number of years I've been putting together book reviews of chapbooks and volumes of poetry by poets who have published in GHLL. I decided I needed a year off from that endeavor (few writing tasks are more difficult than a comprehensive review of a well-written book), but I promised I would look into getting our poets reviewed nonetheless. Unfortunately, the people I had in mind to take my place could not commit to the task, so I was left with a desire to give these books recognition, but a lack of time really to be fair to any of them. I've settled, instead, on giving our readers a very brief account of each of the books listed above. Again, this isn't anything like doing justice to the hard work and skill shown by these poets, but since it is easy for readers now to look these books up on the internet, I hope the mention will be enough for these work to get some deserved attention.
Mark Belair's Watching Ourselves is "a collection of poems gathered in groups: how we watch ourselves grow up, observe others, love, look back; how we watch ourselves come to grief, age, receive and reflect." The back cover copy also claims that this is a "collection of poems addressing and written out of bewilderment," but I'm not sure I agree. Belair seems keenly aware as a poet throughout this collection, neither despairing nor befuddled, though he is willing to admit to how we often times find ourselves overmatched in our desire to understand and care for each other. For example, in facing poems in the "Watch Others" section of the book, the poem "Quiet" belies its potentially peaceful title by discussing a "quiet as rustled bullets/ as bitter thoughts too long held," even as a man lies on his back, "contemplating the clouds/ while calmly calculating/ who is/ to blame." And in Belair's poem "Snow Man" the speaker is observing not a holiday Frosty but a homeless old man dressed all in white who first combs his hair with a "white plastic fork" before hanging his head and weeping. The observer, protected by his black umbrella, merely watches in the rain. This casual indifference, so reminiscent of our own, is starkly brought home to us by the homeless man's innocent white garb and the ordinary darkness of our own protection from the elements.
Gary Fincke is best known to readers of GHLL for his fiction, which has appeared very often in our journal -- with a new story in this very issue -- but he is also a prolific and very accomplished poet. His Bringing Back the Bones includes work from no fewer than a dozen of his books and chapbooks of poetry, as well as some new poems. Michael Waters in his blurb for the volume states: "For three decades, in book after book, Gary Fincke has written poems of meaning and consequence. No poet loves 'the ordinary' as much as he does." Fleda Brown's blurb includes these telling lines:" His poems over decades are so utterly alive- packed with quagmires, crested bustards, thalidomide, church picnics, gas vents, and a girl who breathes through a hole in her neck- that I come away reeling, heart beating faster, grateful for Fincke's flawless control of the line." And Edward Hirsch notes, "I am moved by how deeply these poems engage working class experiences." One poem that certainly exemplifies all the above noted characteristics is "Sweet Things," which harkens back to Fincke's youth when he worked long hours in his family's bakery.
I especially admire the contrast in the poem between television images of "the rolls/ On television that cakewalked to the oven," with the actual work of the family bakery where "time raised bread and browned it./ Time hand-rolled sandwich buns, carried pies/ And coffee cakes to cool on countertops." Fincke's poem about hard work reminds me of the best of Philip Levine's poetry, its absolute familiarity with the ordinary, which does not romanticize but instead simply respects common labor, and the men who shopped at the bakery, "finishing one shift/ Or starting another at the mill/ Each carrying a bag of sweet things/ Into the ordinary ends of morning."
We've never had a Larry Rogers poem grace the pages of GHLL, but his Live Free or Croak comes from a local Kirksville based press and once I had the opportunity to get a look at it, I was anxious to share the word about its publication with our readers. As B.C. Hall says, "Sometimes one picks up a little book and finds a gem, somewhat like stumbling across a forty carat diamond in a potato patch. Reading Rogers' Live Free or Croak is very much like that." A poet/songwriter who grew up primarily "in a potting shed trailer in the piney woods of west central Arkansas," Rogers is an honest, rural-based poet who still has a lot more to offer than homespun humor and wisdom (though he has that too). These are poems whose topics range from the Vietnam war, to rueful childhood memories to family to trying to stay solvent and sane in a sometimes absurd world, and all of them are consistent in their authenticity of place. Still, it's the understated, wry humor of many of the poems that most captures me. One poem that showcases Rogers's skills is simply entitled "Spring." Its opening lines: "A stripper has moved/into the neighborhood," are certainly attention grabbers, but the rest of the poem surprises in its lack of sensationalism. This woman ends her daily walk with a stop at the speaker's home "to discuss gardening/ with my wife." This woman "lives quietly," "washes her Cadillac/ every three days." The speaker has no leering interest in the "beautiful redhead," but instead lets her know that the hair from his "old man's beard," which she observes him shaving outside, "Mixed with/ mud and straw…" "makes a fine/ bird's nest." The poem ends with his prediction coming true, as "two industrious robins/ had swooped down/ and claimed/ the little pile/ of silver." The gentle self-deprecation and quiet symbolism of that image makes the whole poem more of an insight into our life cycles than anyone had a right to expect from its opening lines. This poem thereby is an apt representative of the collection as a whole, which also offers a reader far more than he'd come to expect at first glance.
Fred Yannantuono is one of the funniest guys I know. I've never actually met him in person, though for years we've talked about getting together at McSorleys in New York to quaff a few beers together; sadly, that hasn't happened yet, and I'm now getting to the age where more than one beer is probably past my limit. Still, I enjoy reading Fred's poems, which have frequently made their way into GHLL, in both comic and serious tonalities. His little gem of a book To Idi Amin I'm A Idiot (whose title slightly sacrifices standard usage for the sake of its palindrome purity), features not only the palindromes themselves but funny illustrations (by frequent New Yorker contributor Philippe Petit-Roulet) and wry titles and commentary which include yet more palindromes, for each category. A few examples include: "God tackles ibis. Elk, cat, dog" ("On the Sixth Day Palindrome"); "Tulsa Slut as a Tulsa Slut" ("Typecasting Palindrome") and perhaps my favorite: "Borrow, or rob?" ("Ethnical Dilemma Palindrome.") The commentary on this palindrome simply states: "If the latter, one could "Rob a Gabor. Of course, that might set off a Moral aroma. Either way, it pays to be thinking, "No, sir. Pay all. Allay a prison."
Finally, what more can I say about the work of Lee Slonimsky than what I have already said in previous reviews of his work? Lee's Consulting with the Swifts: New and Selected Poems, 1982-2016, brings together his best work from eight previous books of poetry, a number of new poems and poems Lee has written which are included within a number of published novels. Lee has a real affinity for Pythagoras (one of his collections is entitled Pythagoras in Love, but his poems alluding to Pythagoras are not limited to that collection). He also, especially in more recent work, has proven himself a master of the sonnet form. X. J. Kennedy blurbs: "His work strikes me as unique in current American poetry." Ernest Hilbert captures the spirit and shape of that work extremely well: "A born naturalist gifted with urbane insights, verse assembled from careful observation and remarkable emotional investment." I cannot possibly select one or even a few poems and claim them to be fully representative, so I'll settle for a few lines from "Rainy Day," in which Slonimsky's speaker while sloshing through the muck of a very wet day hears the call of a bullfrog. He might take the sound as a protest of "weather's denial of lust" or even the primordial "joy of boom," but this speaker is wiser, recognizes that the frog is a philosopher: "His answer was just to himself,/a low, dark moan./ Nothing like a rainy day/ to feel so quite alone." Lee is a smart enough poet to let a bullfrog speak the truth for him and skilled enough then to let it speak for and to the rest of us as well. And only in the eyes and words of our finest poets are even the saddest and loneliest of truths something somehow to savor.
Joe Benevento has published fiction, poetry and essays in over three hundred places. Poetry editor of GHLL since 1995, with numerous collections of verse and several novels to his credit, he teaches literature and creative writing at Truman State University. The second in the Cupelli Brothers mystery series, Saving St. Teresa, appeared this year. Expecting Songbirds: Selected Poems: 1983-2015 is just out from Purple Flag Press.